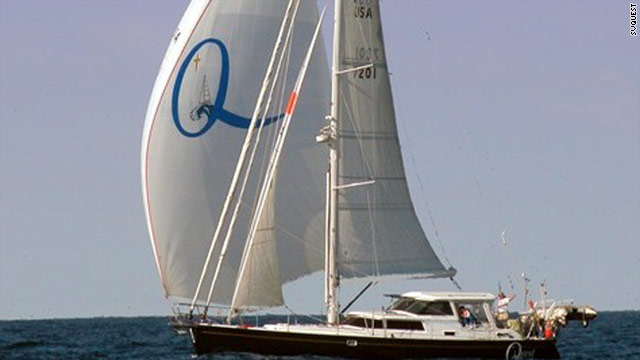 God hates evangelists
The Adams' website chronicles their worldwide voyage, which included trips to New Zealand, China, Cambodia and Panama.
One aspect of their travels, according to the site, "is friendship evangelism -- that is, finding homes for thousands of Bibles, which have been donated through grants and gifts, as we travel from place to place." They also say their mission is to "allow the power of the Word to transform lives."
Despite their own prayers and the prayers of people that God
really
listens to (i.e. pastors, as in the video linked on the news page), these people were killed by the Somali pirates who overtook their boat.
I don't experience any schadenfreude from this, but it does make me wonder what the people who went public with their prayers are going to say now. If you were to make a statistical study of people in danger who were prayed for by others, compared to people in danger who were not prayed for (or maybe those prayed for by the wrong religionists!)... you would probably find that the outcome was no different.
You can't make a study of people who prayed for themselves because you would get the worst kind of confirmation bias: only people who survived a life-threatening event would answer your survey.
Do Christians ever think about why they only hear about people who prayed and were delivered from a life-threatening event or disease? Don't they realize that the people who prayed and died anyway aren't talking to them?
If they do acknowledge that their prayers weren't answered (as opposed to conveniently forgetting that they prayed), they have a real problem on their hands, as their imaginary Sky Daddy was supposed to make everything all right. Here are some website explanations for why prayer doesn't work:
You're not a good enough person.
Your prayers aren't good enough
You don't want the right things
You didn't tell God how great he is first
God did answer the prayer by doing what's best for you, not what you want
This last one is the default for a lot of the Christians I've met. God knows what's best. His ways are mysterious. One door closes, another door opens... blah blah blah
All these excuses have one thing in common: blaming the person doing the praying. God is all-powerful but apparently you have the power to change his mind if you do everything
just so
. If God doesn't answer a prayer it's because there's something wrong with you, not with the Somali pirates.
Someone at work the other day said she met the leader of a local atheist group and "she was one of the happiest people I've ever met." I tried to explain how liberating atheism is, but I don't think her brain got past "you too?"
Liberating, yes. Sure, being powerless in distressing or dangerous situations is frustrating, uncomfortable, and scary. But we don't carry any shame for the situation or the outcome. We don't allow ourselves to be belittled by fairy tale Sky Daddies and their spokespeople who will do everything to put the blame on the believer. Those of us who were brought up to believe this nonsense are free to put the blame where it belongs: on the person committing the evil act, the cancer ravaging a body, or plate tectonics causing an earthquake.
It doesn't say anything about
you
that the pirates killed their captives, or that people died in the New Zealand earthquake, or that a four year old dies from cancer. In the long run, we atheists are in a much better position to recover from horrible events than Christians because we don't hold false hopes of a fairy tale ending or blame ourselves when things don't come out the way we think they should.
We also don't have to spill a lot of ink wondering why things came out the way they did.
Here's a tip, Christians: if it has taken theologians thousands of years to come up with an explanation, that's a sure sign that the underlying concept is bogus. The answer to the question of why prayers aren't answered is that prayer is a mindgame and has no influence on the outcome of events. If it makes you feel good, that's about all you're going to get from it.