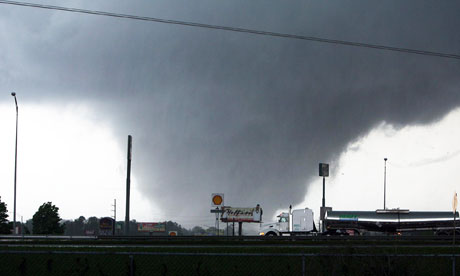 After punishing Japan for not being Christian, God has turned his wrath to the American South, where his people have been voting for Republicans, often in his name. Dozens of neighborhoods have been wiped off the map, and hundreds have died.
The following interview explains why:
Interviewer:"Why did you take the lives of so many who were well loved?"
God:
"My ways are mysterious."
"What about those who escaped with only minor injuries or were spared altogether?"
"It's a warning. Stop voting for Republicans, or you're next."
"You sent tornadoes, which could have killed innocent babies and fetuses. Isn't that unfair?"
*shrug*
"Collateral damage happens."
"What message do you have for those who were severely injured and will go through their lives as amputees or paraplegics? Should they be grateful to you that they survived, or angry about their life-altering injuries?"
"My ways are mysterious."
"No, seriously. Half will be grateful and half will be angry. Who's right?"
"Listen, singling out individuals for retribution is too much like work. I sent tornadoes, not arrows! I don't really care one way or another who gets kills, maimed or spared. It was a message to all of the Republicans."
"That answers my next question: wouldn't some of the victims have been Democrats?"
"Probably. But they're to blame, too. Did they volunteer in voter registration drives? Did they contribute enough money to the campaigns? Probably not."
"You're not sure? But you're God!"
*shrug* "That's too much like work, too. Listen, if I really wanted to make lists of who did what, would I make Heaven or Hell such a simple proposition?"
"And that is...?"
"If they believe in me, they're in. If they don't, they go to Hell. I don't give a crap about all those individual sins. I wait until a critical mass of sinning pisses me off then I send a tornado or earthquake or plague to tell them all to straighten up."
"Or a Great Flood. What did all those animals do to deserve drowning?"
"Hey, listen. I'm God. I make up the rules. I spared a few of each species to kickstart the recovery."
"Some animals probably died in the tornadoes too."
"Yeah, probably. Hey, I miss the days when they'd get barbecued for me at the Temple. That was some good eatin'. The ninnies thought that Jesus was supposed to substitute for that, but could I eat my own son? THEY'RE not supposed to eat the sacrifice, the priests and I get it all. But that's for another day."
"Another 'act of God' you mean?"
"I'm trying to decide. I mean, tornadoes & earthquakes are getting old hat. And you humans are getting too good at sanitation and vaccination for my plague trick."
"You're God, can't you overcome those minor obstacles?"
"heh heh just keep overusing anti-bacterial soap and you'll see..."
"See what?"
"heh heh my ways are mysterious. Well, gotta book it. A little kid just got hit by a car and his whole family are praying for him."
"You're going to cure him?"
"Hell no, I'm going to give him a raging infection that will slowly kill him after he 'miraculously' survives emergency surgery. I love those switcheroos. Gotta get my laughs somewhere since Seinfeld was cancelled."