Okay, so now that we've established that
Christians don't trust atheists
, is there any reason why anyone should trust Christians?
Let's look at the evidence:
They believe their book is true because their book says it's true. This means they'll believe almost anything they are told, so you can't trust anything they say. Not only are they repeating something that might be untrue, they are so nonchalant about the truth that they may be making up their own lies.
They believe all their sins (including telling lies) have been forgiven by someone else's sacrifice for them. This means that they can do whatever they want and it's been forgiven. Some might say that Christians need to behave themselves after being saved, but we all know there's no limit to the number of times a Christian can "find Christ." Just ask Jimmy Swaggart or any of the many philandering preachers who have repented and been welcomed back to the church. Sure, the Catholics look at things differently but they still have a way of erasing their sins. Protestant or Catholic, they believe they will or have been forgiven. No personal accountability at all.
They believe their God loves them... and presumably hates everyone else. That's a recipe for creating a bully if ever there was one!
They believe that Heaven or Hell are eternal destinations based solely on belief. Sure, the Catholics have "mortal sins" in theory, but how many of them really believe they'll go to Hell for the lies they forgot to confess about?
They shop around for belief systems if they don't like the one they grew up in. They don't usually travel far, like going to a more or less strict Protestant denomination or switching from Catholicism to Orthodox or Episcopalian. If they can't be trusted to stick with one moral code what's to say they're not really making up their own moral code before they've switched?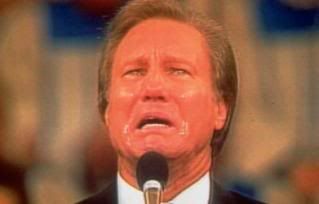 They forgive the most outlandish garbage their "leaders" have perpetrated. They say it's because forgiveness is a Christian thing to do, but it's really because they respect authority figures. Even in the case of pedophile church leaders, probably 90% of the victims keep mum. So you can bet that when they achieve some measure of authority they will feel the rules don't apply to them. Everyone else who achieves authority does this too, of course. Christianity does virtually nothing to stop misbehavior. Look at the "C Street" politicians.
They don't trust atheists, so they may proactively screw us. They probably do the same to members of other religions or denominations. Jesus said turn the other cheek, but not getting slapped in the first place obviates all that feel-good lovey crap. Screw others before they screw you.
They have a very short list of things that are "wrong." They threw out over 600 rules because they felt like it (Christ didn't tell them to), and they picked out a few that fit with their prejudices, like men not screwing men. Anything goes otherwise.
They are an overwhelming majority in the U.S. This means they lack any perspective of what constitutes trampling on the rights of others, if they even imagine such a thing could be wrong.
They believe their god provides for them. The most delusional are the "C Street" types who also believe that if they got elected it must have been God's will (not deceptive negative advertising paid for by corrupt lobbyists)